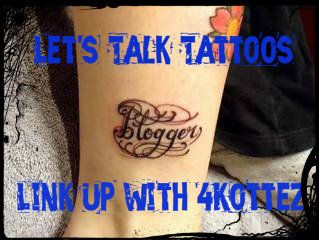 I can't believe I'm doing this post. Most of my newer friends (meaning I didn't go to high-school with) don't even know I have a tattoo.....
I've been reading everyones stories about their tattoos, about how much they love their tattoo(s) and how much thought went into them and all that......yea, that's not my story....
I was 18, freshly 18 at that. My at the time boyfriend decided to get a tattoo and somehow talked me into it as well. I went with him to Alien Ink not having any idea what I wanted but knew I wanted it on my lower back. This was before it was given the name "Tramp Stamp" or at least no one told me thats what it was called (I'm leaning towards the latter) What can I say? I was very naive.
So I went in and looked through the books and on the walls and decided on a basic tribal design with a rose in the middle and wanted it all black because I wanted it to match everything I wore or something like that (weirdo)
I don't hate the fact I have a tattoo but I do hate where it is and what it is. I wish I had put more thought into it and I really wish it wasn't a "Tramp Stamp". I keep saying I'm going to get it re-done but I really don't think I'll ever do it.
I might one day get a new tattoo though. I'd like to have something done on my ring finger for when I don't wear my wedding band and I'd like to get something that has to do with my kids. Maybe one day...
Anyway I know y'all are dying to see the tattoo pic so here ya go
Being all black it has no definition and I get asked a lot if it's a spider which is really ironic because I am deathly afraid of spiders.
Make sure you go check out Mel @
4 Kottez Runs It